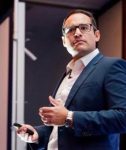 Fernando Soto is a Senior Vice President in Brown Brothers Harriman's (BBH) Private Banking division in the New York office. In his role, he manages a $2 billion book of business and advises entrepreneurs, private business owners, ultra-high-net-worth individuals, family offices, and endowments and foundations on complex matters related to investing, wealth planning, philanthropy, family business governance, and corporate advisory. He currently overseas some of Private Banking's largest global relationships, helping clients achieve their definition of success for their family, wealth, and business over generations.
He sits on BBH's PrivateBanking Sustainability Committee as well as the Diversity & Inclusion Council. Outside of BBH, Fernando serves as a board member of Help Peru, a New York-based charity that supports charitable organizations that help underprivileged Peruvians, and AmericanFriends of Waterford, a foundation that supports educational initiatives in Southern Africa. He received his B.A. from Syracuse University and an MBA from Duke University, Fuqua School of Business.
Fernando was named 2021 American Bankers Association (ABA) 40 under 40 at age 31.