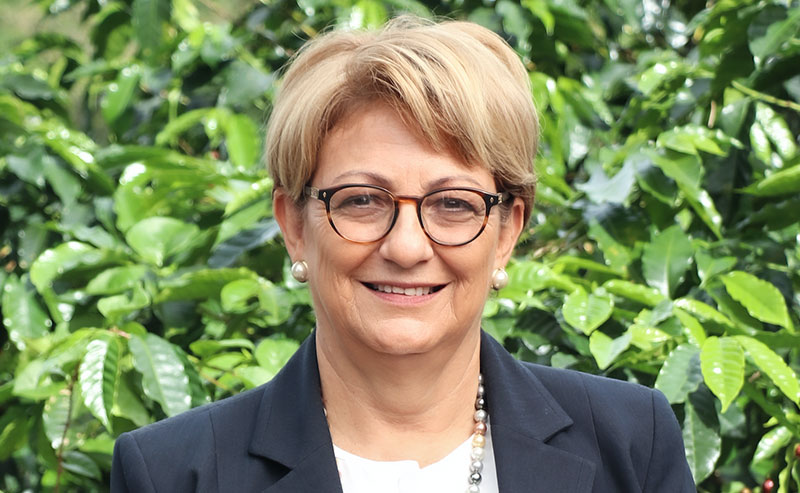 Xinia Chaves Quirós
Executive Director of the Costa Rican Coffee Institute and President of the Executive Council of Fonascafe
Xinia Chaves Quirós is a lawyer, graduated with honors from the Faculty of Law of the University of Costa Rica and she is also a passionate coffee producer.
As a woman, she has broken paradigms in the governance of the National Coffee Activity, which has led her to serve in several direction positions, being the first woman president of the Board of Directors of the renowned Cooperative of Coffee Growers of Palmares for more than 14 years; she was president of SINTERCAFE, and she was also the first woman Vice Minister of Agriculture in the Government of the Republic for 2010-2014 period. She represented coffee producers and exporters before the ICAFE Board of Directors on different occasions and she became the first woman President of the Board of Directors of the Costa Rican Coffee Institute in 2012 and 2014. She also served as the first female President of the Board of Directors of PROMECAFE. She is currently the first female Executive Director of the Costa Rican Coffee Institute (ICAFE).
Selected within the group of women who have contributed to the construction of Costa Rica throughout its 200 years of independent life, she appeared in the book "Women of the Bicentennial 1821-2021 "
She has been an international consultant on coffee legislation and governance issues, including an external international consultant for IICA for a project on governance and institutionality of the coffee growing sector in Peru and Mexico.
She has stood out for the impulse she has given to one of the most important projects of the Coffee Institute of Costa Rica: the Traceability & Sustainability: STATEMENT, project that, accompanied by her leadership, seeks to communicate strategic information transparently through the value chain of CAFÉ DE COSTA RICA. In the same way, she has promoted the Gender Policy for the Coffee Sector, evidencing with this, her commitment in the search for opportunities and visibility of the women who integrate the coffee agro chain.
She is a faithful believer and executor of the Institutionality through Law 2762, the only law in the world that seeks to promote a unique and equitable production model among producers, millers, roasters and national exporters, which is the fundamental tool in the defense of the National Coffee Sector.