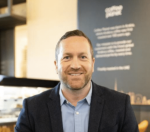 Jamie Brown is the CEO of Coffee Planet in Dubai which is the largest specialty coffee business headquartered in the UAE with a strong presence in the Middle East and beyond. Jamie is passionate about working across the industry to make specialty coffee easily accessible to all and has struck up strategic partnerships with leading providers across the globe to help achieve this. He has a strong track record of bringing synergies and best practices together to deliver best-in-class customer and consumer experiences throughout the value chain.
Before joining Coffee Planet, Jamie held several Sales and Commercial leadership positions in leading providers in the Europeancoffeemarket including Lavazza, Selecta(Pelican Rouge), and MarsDrinks(Part of Mars Inc.).
His strong belief in building a compelling vision and values for employees and customers alike throughout his corporate career can be greatly attributed to Jamie's service in the British Army where the importance of professionalism and collaboration became part of his DNA.
Coffee Planet's growing success story is demonstrated by a growth of 33% in the last two years. 2022 saw the strongest financial performance since the organization's inception