Become an exhibitor at Sintercafe and display your company's message in front of key decision makers in the coffee industry.
---
Why exhibit at SINTERCAFÉ
Connect and network with over 500 leading coffee executives.s.
The limited amount of stands provides your company with more exposure to these decision-makers.
The exhibits will be right outside of the conference rooms for immediate access to participants.
Benefits
Access to all conferences and social events.
Description and logo of your company in the program and on the web page.
Chance to have an insert in the welcome package, distributed to all participants.
Additional benefits
We provide many other services such as:
Additional outlets, lighting fixtures or special connections.
Carpet installation
Audiovisual equipment
Additional furniture
---
Floor Plan: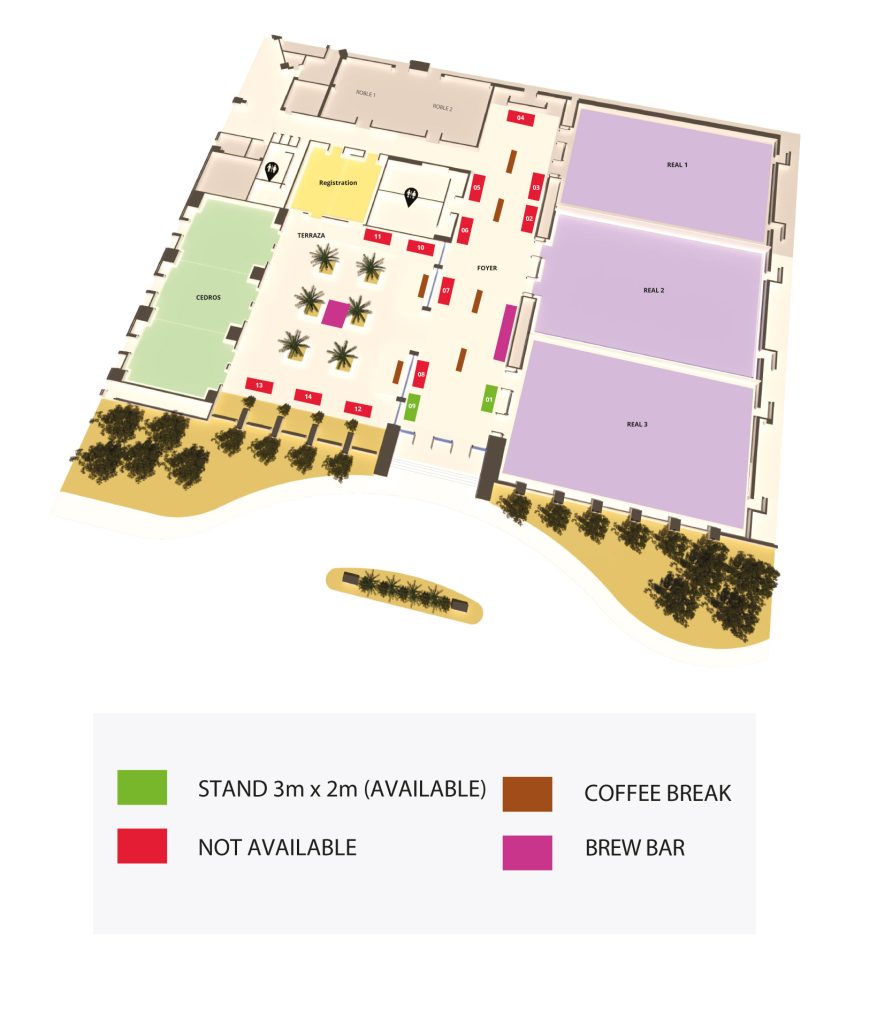 Stands
Silver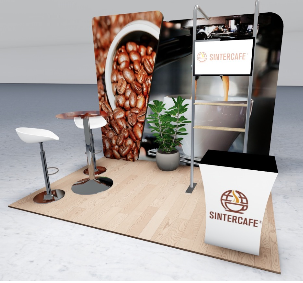 Click image to zoom
---
Includes:
Structure
Furniture
Screen
Flooring
Internet
1 stand staff registration
Second stand staff registration: $550 + IVA
$3,250 + 13% IVA
Gold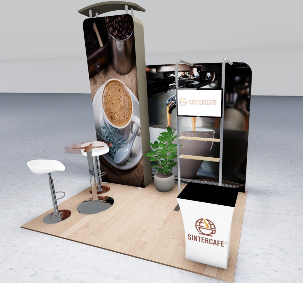 Click image to zoom
---
Includes:
Structure
Furniture
Screen
Flooring
Internet
1 stand staff registration
Second stand staff registration: $550 + IVA
$3,700 + 13% IVA
Payment
A fifty percent down payment is required at the time of making the reservation, and the remaining 50% must be paid no later than September 25th, 2023. If the second payment is not received by the deadline, the reservation will be cancelled, and Sintercafé will sell the space to another company.
Cancellation Policies
Cancellations must be made in writing, via e-mail, to stands@sintercafe.com by September 28th, 2023. In this case, the 50% down payment will be completely reimbursed. After September 28th 2023, down payments are not reimbursed.
Sub-leasing
Reserved stands may not be traded, sold or leased to other firms. The spaces are assigned only to companies, firms and/or corporations previously accepted and authorized by Sintercafe to occupy them.
Transportation and Set up
All transportation costs and any other costs related to exhibit set up not explicitly outlined by Sintercafe are to be paid by the exhibitor.
Promotional Materials
Exhibitors may have promotional material inserted in the welcome package. Please be informed that it is the exhibitor's responsibility to ensure that the insert material (500 pieces) will arrive no later than Friday, October 6, to be included in the welcome package. Once you have sent this material, please notify Sintercafe's staff by sending an e-mail to stands@sintercafe.com. Sintercafé is not responsible for promotional material sent via courier or air mail without prior notice to staff. Such materials must be shipped prepaid, including customs clearance in Costa Rica.
Shipping Label Information:
SINTERCAFE
Blvd. Rohrmoser, 200 norte y 25 oeste de Prisma Dental
Casa 21
San José, Costa Rica
INSERT WELCOME PACKCAGE FOR (COMPANY NAME)
Maintenance
Exhibitors are responsible for keeping the leased materials (stand and furnishings) in good conditions. Any damage will be charged separately.
Exhibitors must take down their stand within the prearranged schedule. Otherwise, Sintercafé and Los Sueños Marriott will not be responsible for lost items.