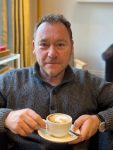 As Chief Operating Officer and Regional Director for Europe & East Africa at Volcafe, Tim Scharrer is responsible for ensuring operational excellence across all Volcafe entities while overseeing the strategic development of Volcafe's presence within Europe and East Africa.
Tim has a solid and deep experience in green coffee trading and operations management. He has held various roles for coffee trading houses in several producing countries and spent over 15 years in the roasting industry. 
With a career dedicated to coffee and spanning over three decades, Tim is an expert and recognized leader within the coffee trade.