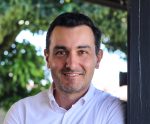 As Executive Director of the Costa Rican Coffee Institute, he currently oversees an organization committed to serving 26,000 coffee-producing families, as well as collaborating with over 300 coffee mills and more than 90 exporting companies.
His primary focus revolves around sustainability and innovation, all driven by the singular goal of effecting meaningful transformation within the coffee industry. With a Master's Degree in Project Management (Cum Laude) and a Bachelor's Degree in Electromechanical Engineering from the Instituto Tecnológico de Costa Rica, he is an expert in agribusiness, climate change, renewable energy and digital transformation. With more than 15 years of experience, he has led notable projects in these fields, including the implementation of the world's first agricultural NAMA, the Costa Rican Coffee NAMA. 
He has worked for different multilateral organizations and companies such as the German Cooperation GIZ, INCAE Business School, and regional banks, among others.